Sherlock Holmes
The original illustrated Strand of Sherlock Holmes by Arthur Conan Doyle, illustrated with black and white plates.
Bound in quality russet cloth with gold embossed detail using heirloom quality archival paper and gold gilding.
A must for every Sherlock Holmes fan, this luxurious bound heirloom book has all your favourite stories in one large large tome and is a pleasure to read not only to yourself but also to introduce these detective adventures to your young family.



$145
Sherlock Holmes - original illustrated Strand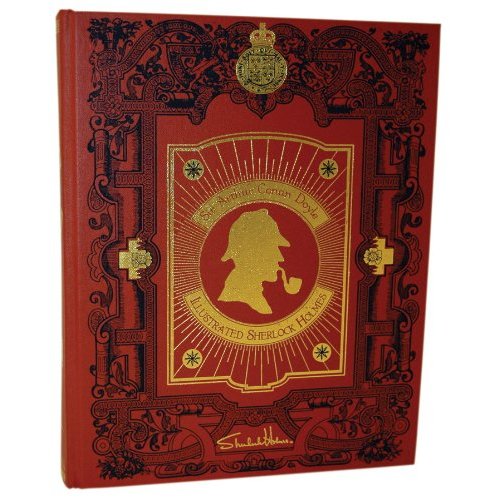 Some of the stories in the book:
A Scandal in Bohemia
The Red-Headed League
A Case of Identity
The Boscombe Valley Mystery
The Five Orange Pips
The Man with the Twisted Lip
The Adventure of the Blue Carbuncle
The Adventure of the Speckled Band
The Adventure of the Engineer's Thumb
The Adventure of the Noble Bachelor
The Adventure of the Beryl Coronet
The Adventure of the Copper Beeches
Silver Blaze
The Adventure of the Yellow Face
The Stockbroker's Clerk
The Gloria Scott
The Musgrave Ritual
The Adventure of the Reigate Squire
The Adventure of the Crooked Man
The Resident Patient
The Greek Interpreter
The Naval Treaty
The Final Problem
The Adventure of the Empty House (the return of Holmes)
The Adventure of the Norwood Builder
The Adventure of the Dancing Men
The Adventure of the Solitary Cyclist
The Adventure of the Priory School
The Adventure of Black Peter
The Adventure of Charles Augustus Milverton
The Adventure of the Six Napoleons
The Adventure of the Three Students
The Adventure of the Golden Pince-Nez
The Adventure of the Missing Three-Quarter
The Adventure of the Abbey Grange
The Adventure of the Second Stain

Sir Arthur Conan Doyle is the inventor of Sherlock Holmes, He was born in Edinburgh in 1859. He used one of his professors from university, Dr Joseph Bell, as his model for Sherlock Holmes, as it was Bell who drummed into Sherlock the importance of using his powers of observation to help deduce the nature of a patient's affliction. His first Sherlock Holmes was 'A study of scarlet' which was published in 1887 in 'Beeton's Christmas annual' and was so successful that he was encouraged to write more stories which involved Sherlock Holmes. The second book he wrote was 'the sign of four' in 1890. The first Sherlock Holmes short story was 'a scandal in bohemia' and appeared in the Strand Magazine in 1891 and was followed by more over several years. He did kill of Holmes in 189 in 'the final problem' but there was such a public outcry that Holmes was resurrected and continued writing stories about Sherlock Holmes over the next 23 years. He wrote other books also but is more famous for his Sherlock Holmes books.